Return to Previous Page
รายละเอียด
สินค้าตัวโชว์ สภาพปานกลาง ลดราคาพิเศษ
สำถามเพิ่มเติมก่อนชำระเงินครับ
เหลือ1ตัว
Silencio 652S
Silencio 652S
Supremely silent mid-tower with noise cancelling materials and an elegant matte finish
Three 120mm "Silencio FP 120" fans included for absolute silence and excellent airflow
Removable covers on the top and side panel for improved cooling capabilities
Liquid cooling ready - supports 240mm radiators (top) or 120mm radiators (rear)
Dual Super Speed USB 3.0 & SD card reader
Supports high-end CPU coolers up to 168mm tall and graphics cards up to 423mm long
Supports up to 10 SSDs /9 HDDs with the HDD/SSD combo cage and the 5.25"-to-3.5" adapter
Multiple dust filters (top, bottom, front, side panel) for easy system maintenance
Premium Silent Cooling
Equipped with Cooler Master's all-new Silencio FP 120 fans, the Silencio 652S delivers uncompromising, whisper-quiet performance. Silencio FP 120 fans feature specially designed blades that allow both extremely quiet operation and high air pressure. Consuming less power than typical case fans (0.6W, 12V, 0.05A) and featuring IP6X dust resistance, Silencio FP 120 boast a staggering 160,000 hour lifespan, making Silencio 652S extremely quiet and highly durable. Besides the inclusion of Silencio FP 120 fans, Silencio 652S features support for 120/240mm water cooling systems with removable covers on the top and side panels. A large interior ensures ample space for the latest high-end graphics cards and CPU coolers, while adjustable HDD/SSD trays provide support for up to 9 HDDs or 10 SSDs. Maintenance is a breeze with multiple dust filters throughout the chassis (top, bottom, front, side).
The new Silencio FP 120 (FP: Fan Pressure) fan technology ensures that no compromises are made to build a silent cooling system. Each fan is designed with large fan blades that, with its proprietary technology, produce less noise (11±1 dBA) while creating high air pressure. A new system will likely be long obsolete by the time that these fans expire as they carry a 160,000 hour life expectancy with IP6X full dustproofing that protects the fan bearing and keeps it running silent for a long time.

• Ultra Low Noise: 11±1dBA
• Optimum Air Pressure
• More power-saving: consumes lower current (0.6W, 12V, 0.05A) compared to the normal fans (12V, 0.15A)
• Loop Dynamic Bearing:
1.Dust-proof: IP6X (the highest level of dust test standard)
2.Super Long Life expectancy: up to 160,000 hrs
SILENCIO FP 120 FOR ABSOLUTE SILENCE
There are three Silencio FP 120 fans installed in the Silencio 652S - two in the front to intake cool air with minimum noise (11±1dBA) and one in the rear to exhaust the heat. It's more power-saving which consumes lower circuit (0.6 watt, 12V, 0.05Amp) simultaneously.
Removable cover with dust filter at the top
Dual SuperSpeed USB 3.0;
SD card reader
Supports high-end VGAs up to 423mm / 16.6 inch long
Removable HDD/SSD combo cage with adjustable HDD/SSD trays
Two slide-out dust filters for easy maintenance
One hidden SSD slot behind the M/B tray
Supports a 240mm radiator at the top
Supports a 180/200mm fan at the top
Supports a 120mm radiator in the rear
Supports a 180/200mm fan on the side panel with the cover removed
Includes two Silencio FP 120 fans in the front for improved airflow
Model Number
SIL-652-KKN2
Available Color
Midnight Black
Materials
Polymer, Steel
Dimensions (W x H x D)
220 x 507 x 508.6 mm / 8.7 x 20 x 20 inch
Net Weight
10.4 kg / 22.9 lbs
M/B Type
microATX, ATX
5.25" Drive Bays
3 (exposed)
3.5" Drive Bays
9 (hidden; 7 in the HDD/SSD combo cage, 1 at the bottom, 1 in the ODD cage by adapter)
2.5" Drive Bays
10 (hidden; 7 in the HDD/SSD combo cages, 1 under the ODD cage, 1 behind the M/B tray,1 at the bottom)
I/O Panel
USB 3.0 x 2, USB 2.0 x 2, Audio x 1 (supports AC97 / HD Audio), Mic x 1, SD card reader (Class 10) x 1
Expansion Slots
7+1
Cooling System
Top: 180/200mm fan x 1, or 120/140mm fan x 2 (optional)
Front: 120mm Silencio FP 120 fan x 2 (installed; 11±1 dBA, 1200±200 RPM)
Rear: 120mm Silencio FP 120 fan x 1 (installed; 11±1 dBA, 1200±200 RPM)
Side: 180/200mm fan x 1 (optional)
Bottom: 120/180mm fan x 1 (optional)
HDD cage: 120mm fan x 1 (optional)
Power Supply Type
Standard ATX PS2
Maximum Compatibility
VGA card length: 423 mm / 16.6 inch
CPU cooler height: 168mm / 6.6 inch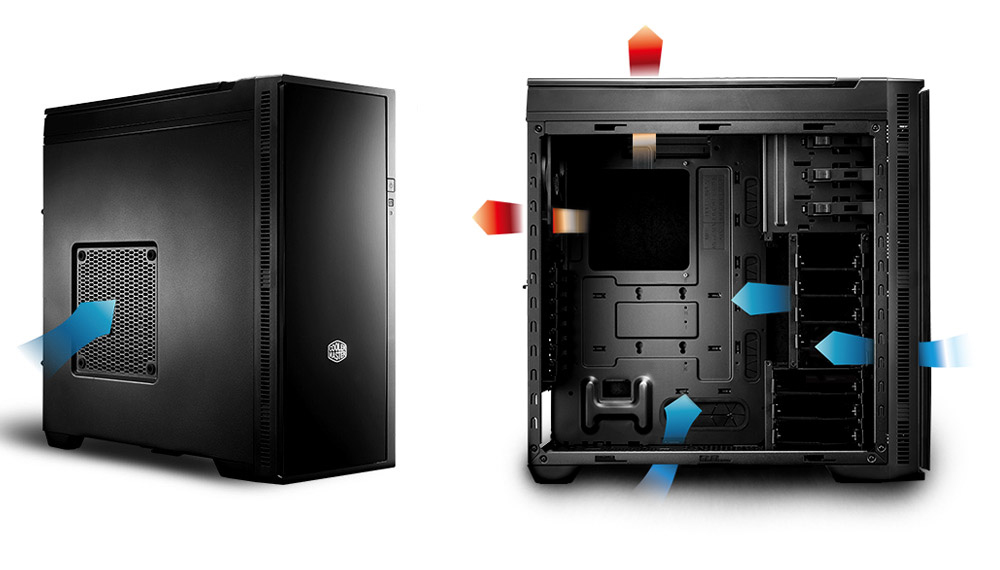 • Top: 180/200mm fan x 1, or 120/140mm fan x 2 (optional)
• Front: 120mm Silencio FP 120 fan x 2 (installed; 11±1 dBA, 1200±200 RPM)
• Rear: 120mm Silencio FP 120 fan x 1 (installed; 11±1 dBA, 1200±200 RPM)
• Side: 180/200mm fan x 1 (optional)
• Bottom: 120/180mm fan x 1 (optional)
• HDD cage: 120mm fan x 1 (optional)
เขียนรีวิวสินค้าของคุณเอง
คุณอาจจะสนใจในสินค้าดังต่อไปนี้
ราคาปกติ: 3,990 บาท

Special Price 3,580 บาท

ราคาปกติ: 32,000 บาท

Special Price 27,500 บาท

ราคาปกติ: 2,600 บาท

Special Price 2,290 บาท

ราคาปกติ: 3,600 บาท

Special Price 3,390 บาท